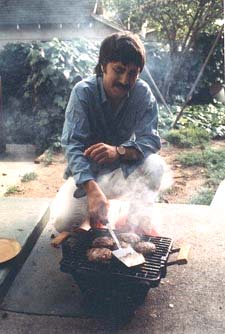 'Why do they call the steak Sinatra, the hamburger Hazlewood ?'
Through the instrumental 'twangy' guitar music of ace guitarist Duane Eddy of whom I had a bunch of vinyl singles and albums in my collection I became interested in the music of Lee Hazlewood.
In the mid sixties I bought my first Lee Hazlewood 45 single and listened to songs like 'The girl on death row' and 'Words mean nothing'.
Lee sang a deep baritone voice accompanied by Duane Eddy and his orchestra.
But the first album I bought was in the late sixties when I discovered the - nowadays hard to find - 1968 German MGM album 'Something special' in a record shop and since that year - but in an irregular way because of its scarceness - I bought all the material I could track down. From that moment on I searched for other 45 singles and albums with that deep baritone voice that could so easily lay a world of emotion in just one word.
Listen for example to songs like 'Hands', 'Summer night' or 'The nights' ('.....from old comes new and new is life and life is an eternal thing.....') and you will understand what I mean. It is my experience that once you are hooked on his music you will enjoy it more and more. Although Lee & Nancy Sinatra had a bunch of worldwide hits in the years 1967 and 1968 ('Summer wine', 'Lady bird', 'Some velvet morning' and 'Jackson') I didn't fully appreciate these duet songs in those days. Not before 1991(!) I bought their famous duet albums on vinyl and now - like so many 'addicts' as Lee calls his fans - I consider the duet song 'Some velvet morning' as one of my favourites.
Sometimes I ask myself what had come out if Lee had not done those duet songs with Nancy. We had never heard of 'Some velvet morning' and 'Summer wine'? I don't think so for then he had sung them with another female singer but could not cash in on the worldwide success of 'These boots are made for walkin'' by Nancy.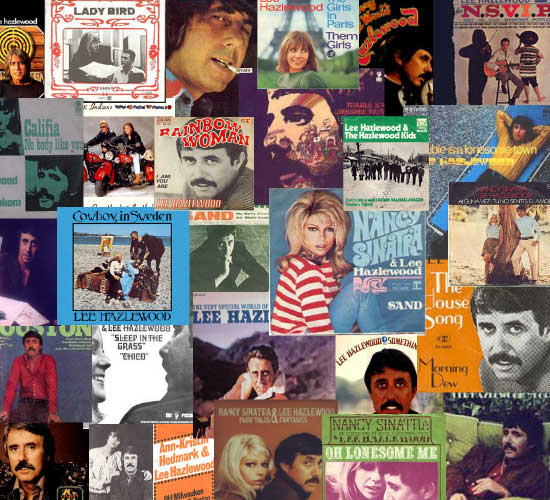 Like so many fans in Europe, the UK and the US I didn't know what Lee was doing between 1970 and 1995. It was rumoured that he changed homes between Sweden (and we knew because Torbjörn Axelman and Lee won the 'Golden Rose of Montreux' prize for the Swedish TV special 'The N.S.V.I.P.'s'), London, Paris, Germany, Helsinki, Spain, Las Vegas, Phoenix and Florida. Thanks to the fact that since 1991 I continued collecting his records I became aware of the singles and albums I was missing in my collection made in Sweden and Germany in the period 1970-1977.
Lee Hazlewood shows an enormous versatility. He is not only known as a singer but also as a talented arranger, composer, producer and actor and did an awful lot of production and supervision work for artists like Sanford Clark, Al Casey, Duane Eddy, Nancy Sinatra and Dino, Desi & Billy.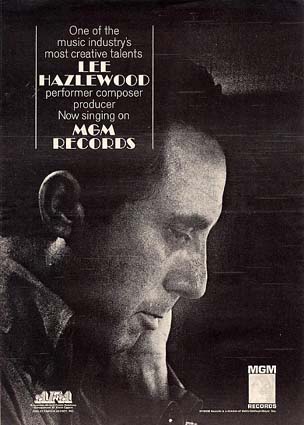 LATEST UPDATES OF THIS WEBSITE
April 2007
The Water label (Europe) has planned for release on June 21, 2007 two Lee Hazlewood CD's. These will be re-issues of the MGM albums 'The very special world of Lee Hazlewood' and 'Lee Hazlewoodism, its cause and cure'. The re-issue of the album 'Something special' will follow in August 2007.
August 4, 2007
On this day the sad news came that Lee had passed away peacefully at the age of 78 after a three-year battle against cancer.
October 28, 2007
The Euro Trend label (Germany) recently issued a compilation CD titled 'Golden hits'.
December 2007
The Rhino Handmade label (US) has released on 4 December 2007 an individually numbered, limited (5.000 copies) Lee Hazlewood 2CD compilation album titled 'Strung out on something new: The Reprise Recordings'.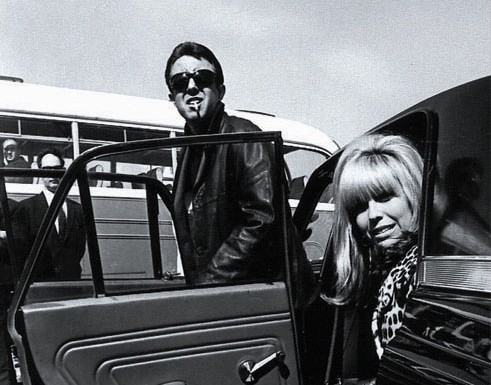 Nancy & Lee